Whether it was a gastro bug from home, a less than lovingly prepared meal from a giant Leagues Club in Sydney or, an 8-hour flight to Singapore, I have a spewy 2-year-old and a miserable 4 year old cooped up in a hotel in Mumbai.
It's not all bad.  We travel with a medical kit that bursts at the seams with off the shelf and prescription medicines and if there is a vaccine, we've probably had it. We work on the proviso, take it all, you'll need none of it.  Take none of it, and you'll need all of it.  We carry our more frequently required panadol, Hydralyte, iodine and asthma medicines as a base.  After that, the less frequently required antibiotics, anti-nausea, anti-diarrheal medicines for the adults.
A glut of hand sanitiser and baby wipes add to our precautionary practices.  I am telling myself that this will only last a couple of days and we can (within reason) manage the symptoms.  I can't say that I'd like to test the local healthcare system or, our travel insurance if I can avoid it. Yet, with all of the diligent hand washing, not sharing water bottles etc. etc. we still end up with gastro abroad.
While we contend with tspewnami, vomit fountains, poo-mageddon and whine-fest 2017, I still consider myself lucky.
We happened to land in India on UN World Toilet Day.  Cue the Kenny jokes. But beyond the one-liners, access to toilets and clean water is a huge issue worldwide. Child mortality under 5 years due to uncontrollable diarrheal diseases, poor hygiene, sanitation or, unsafe drinking water is in the range of 1000 children a day worldwide (WHO/UNICEF 2015).  I don't normally get geeky over statistics but, UNICEF India's 2017 statistics suggest a consistent decline in the child under 5 mortality to 50 deaths per 1000 live births.  That's a decline?
Can you see the teacher in me coming out? Getting excited about the new information? I admit to having spent a fascinating couple of hours reading up on toilets, types of toilets, accessibility to toilets, factors to use, or not to use toilets and the volume of people (and their excreta) per toilet that needs to be accommodated.  Hey, I was holed up in a hotel room with vomiting kids…I may as well put the time to good use.
The things you take for granted, access to toilets and clean drinking water.   I've been really interested in the concept of a sanitary toilet.  The UN World Toilet Day educates that poo should take a 4 step journey.  For the vast majority of us, we only have to worry about step 1.
We've lived with long-drops, done enough trail riding, running and bushwalking to know the drill for going al fresco.  You have to do what you need to do to take a bush wee (or more) but at the end of the day, we have a toilet that is connected to a septic.  What my superficial research has uncovered is in the highly populated areas or, indeed in rural areas, sanitary toilets or latrines are not as easy to come by.  A really interesting article in National Geographic elaborates some of the challenges to educate traditionalist outdoor defecators into installing and using toilets or latrines.  The logistical challenges we don't have to consider at home.   For further reading, check out the National Geographic, Nearly a billion people still defecate outdoors.  Here's why.
The current Modi government in India has set itself a target of India being Open Defecation Free (ODF) by Gandhi's 150th birthday anniversary in 2019.  I'm not sure who certified Mumbai as 100% ODF but, you don't have to go far from our swish hotel to see that the claim might not be 100% accurate.
DHB went for his first run out on the streets and in between dodging vehicles and watching where he put his feet, he was very much catching odours that could only mean one thing.  An open septic or, a regular spot for regular relief.  What he passed was, in fact, an open channel. these channels are the depository for sewers.  These channels then slowly sluice with water run-off, rubbish, human and animal excrement and like a blue-grey shiny lava flow make their way to the …. you'd like me to say, holding dams? No, they make their way to the ocean. The chap in the hotel cafe told me, with a twinkle in his eye, "You know, Mumbai, is cleaner than Delhi.  Because we get the rain from the sea so everything gets washed away.  But, madam, don't go swimming at the beach until you get to Goa.'
When out at the markets or, driving here and there, in a typical middle-class area, we could see some of the public toilets.  One was painted proudly, the other near the train station we could smell before we saw. The Economic Times of India in August 2017, offered 88% as the number of urban households who have access to a sanitary toilet. That still means that 12% of urban households don't have access to a toilet and that number does not include the slums.  During a tour through Dharavi, the staggering statistic is 1 toilet per 1427 people in the peak work season.  It is not unusual to queue for hours to wait to do to your daily ablutions.  You can understand that for some, open ground is a time effective option.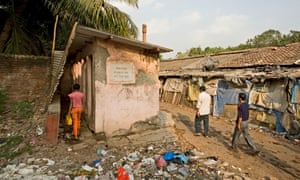 The Guardian India cites 78% of toilets in Mumbai slums lack a regular water supply, often because they are situated on encroached land.  Of that number, 58% don't have a regular electricity supply or proper doors.  Then, you have to pay.  Between 2-3 Rupees (AU0.04-0.06c). These numbers could be worse in poorer areas. Poor construction and maintenance compound a reluctance or refusal to use the facilities. Just think, between December 2016 and February 2017, seven people died due to collapsing septic tank lids.  That's no way to go.
If DHB and I get out of this unscathed it will be a miracle.  We are, of course, the first line of defence in containment, clean up, cuddles and kisses better.  Yet, I still consider myself lucky.  Next time I have to sit upon the ceramic throne or drive the porcelain bus,  poo tickets at hand, Toilet duck and Glen 20 at the ready, this little glitch will pass and we will return to exploring and get ready for the wedding that we've come to celebrate.  Grateful that I have healthy children and a toilet to flush.
PostScript:
As suspected, DHB and I both went down. Me first.  Then DHB. Oh, Goodie.
A family that spews and poos together, stays together.
Bring on the festivities.